Tell Congress to complete NIH budget now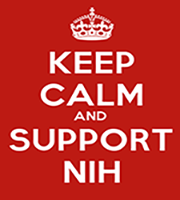 Dear Member of Congress,
As your constituent, I am writing to urge you to provide a much-needed increase in funding for the National Institutes of Health (NIH) in Fiscal Year 2017.
The NIH is the world's premier medical research institution. It drives our knowledge in health science forward in the hope of finding cures and improving treatments for some of our country's most pressing health problems from cancer to heart disease to Alzheimer's. Unfortunately, for over a decade congressional appropriations to the NIH have failed to keep up with inflation. As a result, the NIH's purchasing power has diminished by more than 20%. NIH is losing a generation of researchers due to the lack of career opportunities and some senior investigators are leaving research altogether, all of which undermines our country's investment in science.
As a nation, we must invest in our future. The NIH is propelling us to that future – one in which there will be scientific discoveries to treat the diseases and illnesses that challenge our world. Cancer is one of those challenges, and under the Cancer Moonshot initiative, NIH has an opportunity to dramatically accelerate efforts to prevent, diagnose and treat cancer. Imaging has a fundamental role in the Cancer Moonshot but funding is key. Only by making the funding investment in NIH as well as to the NIH's National Institute of Biomedical Imaging and Bioengineering will we take this important step forward on imaging and cancer.
On behalf of all of your constituents-including patients, physicians, scientists, and manufacturers-who depend on the NIH for its support of innovative and interdisciplinary research, thank you for your consideration of this important issue.
Sincerely,
Post Public Comments
Public Comments (5)
Mar 21st, 2017
Elizabeth K. from Atlanta, GA signed.
Mar 21st, 2017
Elizabeth K. from Stone Mountain, GA signed.
Mar 10th, 2017
Christopher B. from Largo, FL signed.
Nov 21st, 2016
Ye W. from Alexandria, VA signed.
Nov 21st, 2016
Ye W. from Alexandria, VA signed.